CALL FOR ARTISTS:
PAINT THE TOWN 2023:
2-day Plein Air Artist Invitational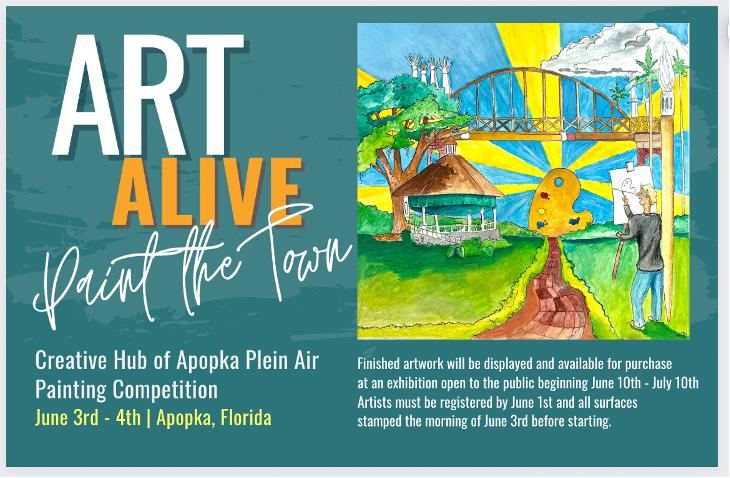 Creative Hub of Apopka is hosting Apopka's first plein air painting competition. Plein air, from the French en plein air, is the method of painting outdoors directly from life and has become a wildly popular practice with artists across the world. An opportunity to showcase the beauty and variety of picturesque locations located in the Apopka area as well as the importance of art in our community.
Dates:
Saturday – Sunday, June 3 – 4, 2023
Exhibition Dates:
June 9 & 10 at First United Methodist Church of Apopka
June 12th – July 10, 2023 at Canon Coffee Gallery
The event will be held rain or shine. Creative Hub of Apopka, located at 124 E 2nd Street, Apopka, Florida, will serve as a hub for artists.
Registration:
All participating artists must have their surfaces stamped at the Creative Hub of Apopka Friday June 2nd from 5 -7 pm or Saturday, June 3rd from 8 am – 11 am. Registration fee is $25 per participant. Payment must be received with registration form for complete registration. Final day to register is June 1st. One entry may be submitted into the competition per registration fee.
Entrants may register by clicking here
Instructions:
Surfaces will be stamped during check-in Friday evening 5:00pm – 7:00pm, and Saturday, June 3rd from 8am – 12pm. We will stamp up to 2 pieces per an entry. Artists should refrain from signing the works they wish to enter the jurying process until after the judging. Surfaces not stamped cannot be entered into the jurying process or exhibition. Entries must be original works of art and created between Saturday June 3rd and Sunday June 4th, 2023. If you wish to enter more than one piece you must register for each entry up to 3 entries total. All individuals entering must be at least 18 years of age to accept cash prizes.
Size:
Maximum size allowed is 16 x 20.
Media:
Media conducive to painting en plein air including (but not limited to) oil, acrylic, watercolor, pastel, gouache, and charcoal on varied surfaces. No photography or sculpture. Surfaces must be stamped at the Creative Hub of Apopka prior to sketching/painting.
Exhibition:
Event culminates in an exhibition of all entries on Saturday, June 10th and June 11th at First United Methodist and then June 12 – July 10th at Canon. Each entry has the options to offer their piece for sale during the exhibition. Seller must provide value and payment information upon final submission on June 4th. Framing is encouraged if you intend to sell your piece. Artist name, artwork title, and contact information should be labeled on the back of submissions.
Prizes:
Voting Committee will award 1st ($100) and 2nd ($75)
Overall Popular Vote – Voted on by local community ($50)
Suggested Landmarks
Highland Manor
Lake Apopka Wildlife Drive
Magnolia Park
Kit Land Nelson Park
Apopka Amphitheater
Kelly Park – Rock Springs*
Wekiwa Springs State Park
Dream Lake
City Hall